Week of the 5 - 11th.
This week felt really long.....but by the end of the weekend, it was as if it had all been a blur.
The girls performed in the next village over for their Valentine's family dance. We had some of the senior girls do their jazz & tap pieces along with 2 of them doing solos. The community is raising funds for their new spray park. Other dance groups were in attendance as well (like the square dancers & Ukrainian dancers). It was cute to see some of the younger spectators getting into the groove while they watched the bigger girls perform. Mimicking their kicks and rolls. I think we may have a few new dancers enrolled come next season.
Accomplishments thus far:
I did some work on Hot Stuff. Its not completely finished but I'm okay with that as there isn't too much left of it before I start on the back stitching and the words.



I started, finished & popped a requested piece into a frame for one of my husband's work mates. Using the Storm Troopers pattern I already had, I crafted 2 of them to border a phrase from the movie.
Week of 12 - 17th.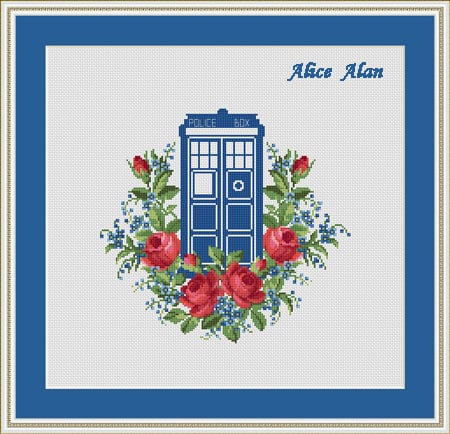 Today I printed off the pattern I'm doing for my cousin's wedding. Its a Dr. Who theme. Under the image I will be adding their names, wedding date & a phrase from the show. I purchased the main pattern from Etsy. It will look like this when it is finished. Given that I didn't pay much attention to the SIZE of the pattern, its good that I've until October to get it finished. (It's 210 x 190)


THIS one on the other hand.....is coming up faster than I had though. Joss had mentioned having a summer wedding, but when I asked Geoff about it he said they were doing it in April. Eek!! So, I've finished the planning stages for their wedding sampler by taking a pattern from my Star Trek book and using PCStitch, maneuvered the screen pads and wording to work for what I'm trying to get done. I started putting some of the screen colours in on that one. It is being stitched on 14ct Mystic aida. This is an example of what it looked like IN the book. I've moved stuff around in the centre, but kept the colours & basic exterior layout. I've already let him know that I'll more than likely not make that cut off but didn't tell him what it will look like. She's the geeky one so while he'll be grateful for the gift - she'll be the one it'll amuse more.

Started a piece that will be the year end gift for our dance instructor. Fabric cut out, white center beginning. It is the SodaStitch "Alice in Wonderland" given that is our theme for this years dance year end performance.
And yes, I just realized that all the pieces I started this week are geeky. *blush*
On top of all this funkiness -My new sister has put in a request-to-purchase piece. All she had was a phrase for me to go on.She'd like for it to be done up so that she can have a reminder at her shop to just keep going, to get her projects done and to sway being a perfectionist. I went perusing on google to see if I could find something that matched. I though perhaps a string of beads with the last one being an odd colour. That would fit her "Finished. Not Perfect" phrase. But I actually came up empty handed. I tried frogs apparently that is her creature. Also nothing that I thought would work, even with tweaking. Nothing on Frogs that is. I did find a goofy looking Owl holding a string of trees that would be exactly what I needed! Success! Its a now discontinued Kit from RTO but I did find (& purchased) it from a seller in Moscow who had the kit in stock. Whoop. How adork-able is this fella?!? I don't know what to charge for this though. My pieces have always been gifts or donations. Anything that's been designed for someone specifically by request has been "paid" with by in-kind-trading. Obviously I could just do a break down of basic costs: kit + framing + shipping....I just don't know.